Our Valued Staff
All of our staff adhere to the highest standard of ethical practices and are committed to ensuring that all of your needs are attended to. Their commitment to the community and genuine compassion toward families are but a few of the characteristics that make them outstanding in their field. Our restoration artists are unsurpassed in their talent and skill in their desire to present the family with a lasting peaceful memory picture of their loved one. We are proud to have them on our staff.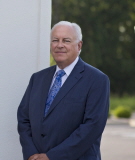 Field Houghlin
Owner/Funeral Director
Rayfield "Field" Houghlin was born in Bloomfield, Kentucky and was a 1969 graduate of Bloomfield High School. He was a 1973 graduate of Western Kentucky University and a graduate of the Kentucky School of Mortuary Science. He has been a licensed funeral director and embalmer since 1977 and has been affiliated with the Nelson County Coroner's Office since 1977. He began as a Deputy, then a Chief Deputy, and became the Nelson County Coroner in 2006. He was awarded 'Master Coroner' by the Kentucky State Coroner's Association (which is the highest award one can receive from the Kentucky Justice System.)
Field was the owner of Greenwell-Houghlin-Northside Funeral Home in Bardstown, and currently owns Houghlin Funeral Home in Bloomfield, and Greenwell-Houghlin-Jenkins Funeral Home in Taylorsville. He has over 33 years of experience in the funeral industry and follows in his father's footstep, who was the founder of Houghlin Funeral Home in Bloomfield.
Field is the father of three daughters and is a member of the Kentucky Coroner's Association, the Funeral Directors Association of Kentucky, the Bloomfield Lion's Club, the Bloomfield Masonic Lodge #57 F&AM (32 degree Mason,) the Bardstown Quarterback Club, the Bardstown-Nelson County Chamber of Commerce and the Bloomfield Baptist Church. He is also a Kentucky Colonel and a Director of King Southern Bank. He resides in Bloomfield with his family.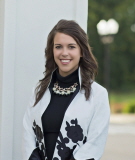 Rebecca Houghlin
Funeral Director / Embalmer
Rebecca Margaret Houghlin is a 2010 graduate of Nelson County High School. She is a member of the Bloomfield Baptist Church and in her spare time enjoys doing anything outdoors and watching sports. She is the daughter of Field Houghlin and Kathy Houghlin, both of Bloomfield.
Rebecca graduated March 21, 2014 from Mid America College of Funeral Service. The commencement exercises were held at Walnut Street Baptist Church in Louisville, Kentucky.
While attending Mid America College she was selected to join Pi Sigma Eta Fraternity for her academic achievements and upon her graduation, she received an academic achievement award in recognition of her outstanding grades during her course of study.
Rebecca successfully completed training administered by the International Cemetery, Cremation and Funeral Association and is a certified Crematory Operator and Cremation Arranger.
In June of 2014 she successfully passed her state board licensing examinations and became a licensed funeral director and embalmer in the state of Kentucky.
Rebecca is a third generation of Houghlin Funeral Home. Ray and Margaret Houghlin founded Houghlin Funeral Home in Bloomfield in 1951. Rebecca is currently working for the Houghlin Funeral Home in Bloomfield, the Houghlin-Greenwell Funeral Home in Bardstown, and the Greenwell-Houghlin Funeral Home in Taylorsville.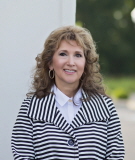 Sheila Spalding
Funeral Director
Sheila Spalding is a graduate of Eastern Kentucky University with a degree in Communications. She began her career in television and then radio after moving to Nelson County in 1988.
She worked in radio until 1994 and began her association with Greenwell-Houghlin-Northside Funeral Home in 1995. Sheila received her Funeral Director's license in 1998.
She is a member of the Bardstown Baptist Church where she is involved with many programs and committees. She and her husband, Glenn, have one son, Logan and two grandchildren, Skyler and Enzley. They reside in Nelson County.